v-rocs Bi-di - Bi-directional Rendering
Complements v-rocs Core with standards compliant support for bi-directional text
v-rocs Bi-di is pre-integrated and bundled with v-rocs and language modules. It provides bi-directional support complementing language modules for Urdu, Arabic etc
Example: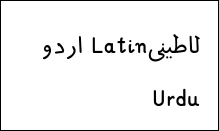 Features
Completely written in C
Pre-integrated with v-rocs Core
Very easy to integrate in mobile phone platforms
Full Unicode 5.1 Support
Automatically senses writing direction
Adds unnoticeable performance penalty to left-to-right-only text
Unicode AUX #9 bi-directional algorithm rule set and AUX #14 line break algorithm
Efficient line sort algorithm
Full bi-di support in two steps
Easy to determine writing direction of a word
Includes bi-di mirroring of existing Unicode pairs according to Unicode 5.1
Will retain combine mark order so the render pipeline doesn't need to know which direction the word is written in
Easy to bypass when not using bi-di in the text, yet due to the code efficiency this is not necessary
v-rocs Core + v-rocs B-di
v-rocs Bi-di adds handling of bi-directional text to v-rocs Core, and as it's pre-integrated there's no extra work involved. It's used with language modules and fonts for right-to-left languages.
Availability
v-rocs Bi-di is available now with Urdu. More languages will be available later.