v-rocs Outline - Outline Font Engine
Efficient on-the-fly rendering of outline fonts on mobile devices
v-rocs Outline features a unique and very CPU and memory efficient rendering algorithm that enables use of large point sizes without much memory penalty.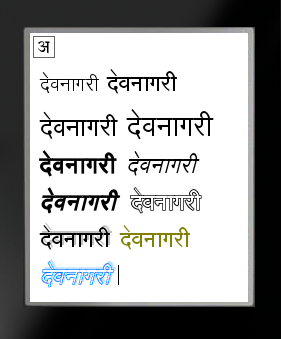 Feature highlights
Fast and accurate variable size letter rendering for embedded systems
Pre-integrated and bundled with v-rocs and language modules
Provides efficient rendering of TrueType and OpenType fonts
Supports Mobile Labsí Indian Language Pack 1 (Hindi, Marathi, Bengali, Tamil, Telugu, Gujarati) and future language packs
Fixed point math throughout, increasing performance and portability
Full anti-aliasing with up to 256 shades of grey
Text attributes per glyph (with configurable levels of effect)

Text color
Background color
Faux italic
Faux bold
Shadow
Border/Outline

Semi automatic hinting using horizontal and vertical stem adjustments
Transfer/sharpening curves (RGB transitions)
Safe font size rescaling secures that glyphs fit in a given box
Optimized font file format

Considerably smaller and faster to access than normal OpenType

Fast rendering core with customizable caches

Balancing memory and performance
Caches outlines (most memory efficient) or bitmaps (most speed efficient)
Uses a two-level approach with L1 (direct mapped) and L2 caches (N-way associative)
Outline fonts can also be pre-rendered during start-up and caches can also be completely deactivated for extreme memory constraints
Memory use etc can be configured freely

Interchangeable with v-rocs bitmap rendering

No API change, and bitmap/outline can be combined

It has a small memory footprint, low CPU requirements and high performance

10-20% faster than FreeType

Built in memory monitor for easy checking on memory use
Written in ANSI C for maximum portability
Examples of text attributes
This picture shows Bengali in normal, faux italic, faux bold, faux bold/italic, black shadow and blue shadow.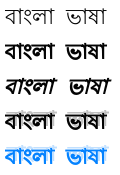 Examples of use of scaling, hinting and transfer curve
These pictures show Bengali in different sizes using normal, hinted and intensified (via a transfer curve).
16 pixel high:


20 pixel high:


24 pixel high:


Zoomed in
(24 pixel high):

v-rocs Core + v-rocs Outline
v-rocs Outline is pre-integrated with v-rocs Core, providing a very competitive solution for rendering of Indic scripts using outline fonts.
Availability
v-rocs Outline is available now. It's bundled with v-rocs Core and language modules to achieve a complete rendering solution for complex scripts.
It's provided with fonts for the supported languages. The Indian fonts are provided by one of India's most renowned font foundries. Mobile Labs complements those fonts with additional glyphs for completeness.