v-rocs Core - Visual Rendering of Complex Scripts
The ideal rendering solution for complex scripts in mobile devices
v-rocs Core is a unique text layout solution for handling of complex scripts like Indian languages. It is optimized for use in mobile phones, media players, portable game consoles, and other mobile devices.
v-rocs Core is divided into a generic core and optional language modules with in-house designed and licensed bitmap fonts in different sizes (commonly 16 and 20 pixel sizes), This minimizes the code size and facilitates the addition of more languages as plug-in modules, without affecting the base integration and also minimizing the need for re-testing already deployed languages.
Features and Benefits
A text rendering product aimed at mass market mobile and embedded devices
An intelligent display solution and language support for worldwide markets with focus on complex scripts
Generic solution with the capability to support any language
Minimal memory footprint and high efficiency for also very low cost devices
Highly optimized code, lookup tables and fonts
Fully written in ANSI C
Conformant to Unicode Standard 5.0
Well-defined and easy-to-use APIs
Easily integrated on any target environment supporting C applications
May connect to text layout as well as text input solutions such as predictive text (e.g. Tegic T9, Zi Corp eZiText), multitap, editors etc
Off-the-shelf and made-on-order customized fonts, complementing the language logic and including all needed glyphs
Architecture
v-rocs Entry and Universal bundles consist of a language independent core, any number of language modules that could be added, optional bi-directional, layout and outline font components, a number of fonts per language module and external tools for creating and adapting fonts. It takes Unicode as input and outputs glyph bitmaps for direct rendering on a phone display.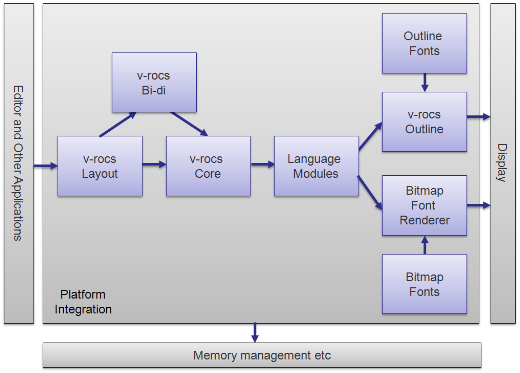 Deliverables
v-rocs Core, language modules and fonts are provided as object files or a code library (depending on need) for ARM CPUs. Possible integration code (unless done by the customer) is provided as source code. v-rocs Core can on request be integrated on any CPU or application platform. Documentation is normally provided in Windows Help format. Other formats can be provided.
Availability
v-rocs Core and language modules and fonts (in 16 and 20 pixel heights) for Hindi, Bengali, Marathi, Telugu, Tamil and Gujarati are available now as part of v-rocs Language Suite for India. Support for more Indic scripts is being developed, and other scripts and font sizes can be offered on request.
Integrations
For internal testing and customer demos, Mobile Labs has integrated v-rocs Core and v-rocs Outline in Microsoft .NET, Symbian OS (UIQ) and Linux (OpenMoko).
In customer projects it's been integrated in ARM-based mobile application platforms.